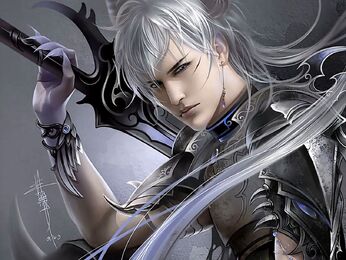 Wade is a general in the army of Silvestre. He is the right hand of the king of Silvestre and a brother to Astrid.
Appearance
Wade is considered to be quite handsome, with white hair and grey eyes. He is quite muscled and tall. He is usually seen wearing his battle armour as he is always prepared for a battle.
Personality
Edit
He is a bit of a lone wolf kind of type, but he can still command a huge army with no problem and with quite an efficiency. He is quite smart and brave and doesn't talk much. Wade is also a brother to Astrid, an Elementalist of air. Wade also holds a lot of emotions buried in himself. At the age of 7 he experienced something that changed him and made him join the army at the age of 12.
Wade
FULL NAME
Wade De La Risse
AGE
24
FAMILY
Astrid De La Risse (younger sister)
SPECIES
Human
GENDER
Male
NATIONALITY/COUNTRY

Nilaiah

Silvestre

EYE COLOUR
Grey
HAIR COLOUR
White
HEIGHT
6'2
OCCUPATION
General in Silvestre Army