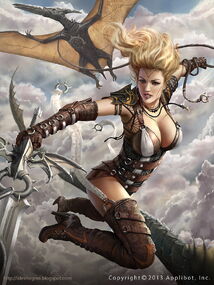 Koroya is a predecesor to Astrid as an elementalist of air. She was last turned by king of Areasden and now she is his most loyal servant and lover.
Appearance
Edit
Koroya is desribed as a striking beauty with blond hair, crimson eyes and pale skin.
Personality
Edit
She was known to be kind and respectuful towards everyone. When she was turned against everyone to work for the king of Areasden she became ruthless and didn't care about people who were of lower rank that she. She soon fell in love with the king of Areasden.
Koroya
FULL NAME
Koroya Whellen
AGE
28
FAMILY
Batiste Whellen (sister)
SPECIES
Former Elementalist of Wind
GENDER
Female
NATIONALITY/COUNTRY
Areasden
EYE COLOUR

Silver

Crimson (turned by Areasden)

HAIR COLOUR
Blond
HEIGHT
5'11
OCCUPATION
Mistress