Astraia De La Risse is one of the major characters in the Elementalist's Prophecy. She is the Elementalist's of air.
Appearance
Edit
Astraia has, long wheat-coloured hair and grey slightly curved eyes . She has a fair compelxion and is considered to be quite thin.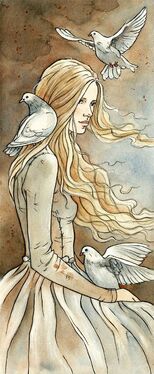 Personality
Edit
She is a bit shy, and passionate. She is also strong and willing to push herself to the limits. As a child she and her brother had been through hard and tough times, but she deals with her problems in a different way than Wade. Astraia takes a while before she can bond with others, but soon she realises that there is more to things than it seems at first.
Astraia
FULL NAME
Astraia De La Risse
AGE
18, later 20
FAMILY
Wade de la Risse (older brother)
SPECIES
Elementalist of Wind
GENDER
Female
NATIONALITY/COUNTRY

Nilaiah

Silvestre

EYE COLOUR
Grey
HAIR COLOUR
Wheat-coloured
HEIGHT
5'5
OCCUPATION 

Servant at the Silvestrian court

Adventurer