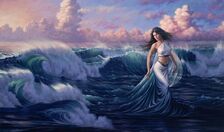 Artemis Close was the first elementalist of water.
Appearance
Edit
She was beautiful as we can see from the statues. She had black hair and dark eyes.
Personality
Edit
There isn't much known about her personality, only that she was kind and observant, but realistic. She was also the best healer in the world. Ward the First was in love with her.